Eco Schools
Eco-Schools is a global programme engaging 19.5 million children across 67 countries, making it the largest educational programme on the planet.
For over 25 years Eco-Schools has been empowering children to drive change and improve their environmental awareness through the simple Seven-Step framework in order to achieve the international Eco-Schools Green Flag.
Eco-Schools develops pupils' skills, raises environmental awareness, improves the school environment and creates financial savings for schools as well as a whole host of other benefits.
There are 9 key areas of Eco-schools; Energy, Water, Biodiversity, School Grounds, Healthy Living, Transport, Litter, Waste and Global Citizenship.
We are hoping to achieve the Bronze award soon.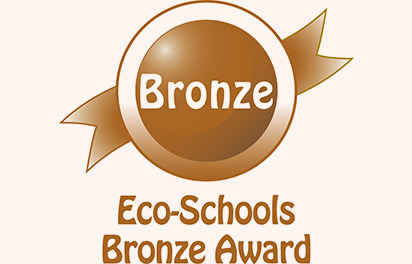 6th December 2021
The Eco Warriors have planted 14 trees donated by the Woodland Trust. Each class has been given their own class tree to look after. They will be planted out in Autumn 2022
20th May 2021
We all depend on the survival of bees
Bees and other pollinators, such as butterflies, bats and hummingbirds, are increasingly under threat from human activities.
Pollination is, however, a fundamental process for the survival of our ecosystems. Nearly 90% of the world's wild flowering plant species depend, entirely, or at least in part, on animal pollination, along with more than 75% of the world's food crops and 35% of global agricultural land. Not only do pollinators contribute directly to food security, but they are key to conserving biodiversity.
To raise awareness of the importance of pollinators, the threats they face and their contribution to sustainable development, the UN designated 20 May as World Bee Day.
The goal is to strengthen measures aimed at protecting bees and other pollinators, which would significantly contribute to solving problems related to the global food supply and eliminate hunger in developing countries.
We all depend on pollinators and it is, therefore, crucial to monitor their decline and halt the loss of biodiversity.
12th May 2021

The Eco Warriors are inviting everyone to #ConnectWith Nature week beginning the 10th May. Many exciting events will be held during the week including lots of physical exercises outside, litter picks, and a 'wear it green' day on Wednesday 12th May. Next week we will reflect on the importance of open spaces and nature on our own mental health.
Year 1 had a fabulous time litter picking in the school grounds
Year 5
6th May 2021
Eco Warriors Meeting
28th April 2021
Eco Warriors Meeting
21st April 2021
We had a reply from Mark Driver at Minor, Weir and Willis Ltd in response to year 5's letter about reducing the excessive plastic packaging on the fruit we receive at school.
He said
"I would really like to talk to the children ideally in the classroom but virtually if we can.
Perhaps we can create our own Junior ECO group where we share ideas and then write to MP's and the ministers themselves.
We can also try and get an invite to the House of Commons and question the 3 parties about their plans for YOUR future
Can I please add my thanks to the school children for 'caring' and taking the time to write to me I have some wonderful handwritten letters in my office"